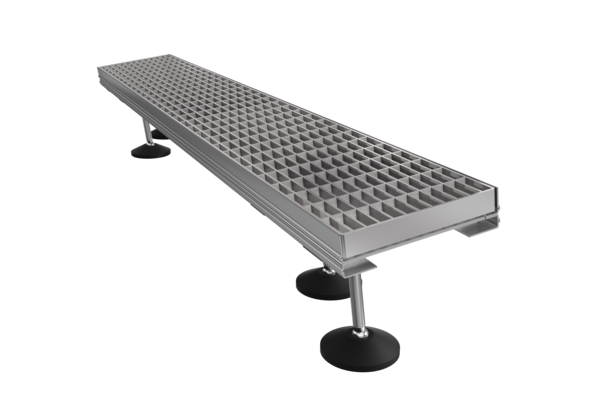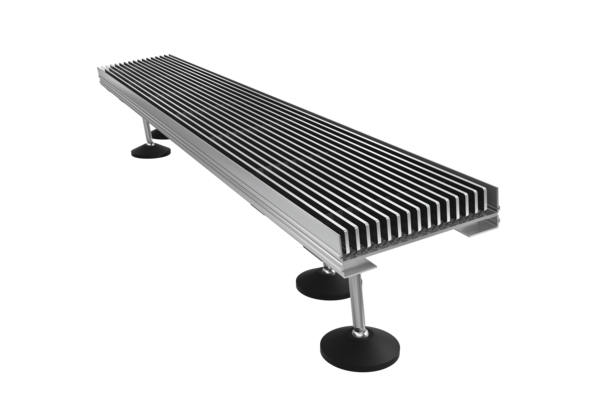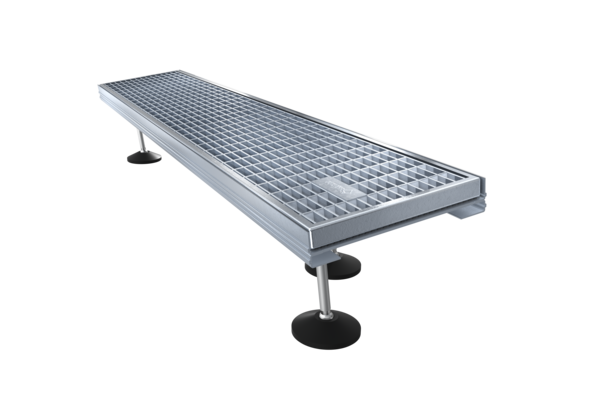 AquaDrain® BF-FLEX
Drain grate that can be positioned like a ramp – continuously variable height adjustment and can be cut to length
Information
AquaDrain® BF-FLEX drain grates have a special screw foot system with which the drain grate can be positioned at an angle, like a ramp. In combination with the AquaDrain® surface drainage mats, which provide outstanding drainage, threshold and easy-access door thresholds on balconies and terraces are no longer a problem.
Advantages
Ramp-like, continuous adjustment system makes easy-access thresholds possible - without the risk of accumulated water.
The special ball head screw foot system makes inclined, ramp-like setting of up to 6 % possible. This means that the door element can be installed at a higher level, with the upper edge of the waterproofing lying above the upper edge of the covering.
Integral dirt trap protects against fouling.
The trap prevents dirt from falling through the drain grate, therefore guaranteeing the permanent drainage performance of the drain grate and the surface drainage .
Simple, precise alignment at covering level using screw feet that can be continuously adjusted from above.
Maximum drainage performance due to drain grate open at the bottom combined in a system with AquaDrain® drainage mats.
Guarantees maximum drainage capacity without accumulation of water. Façade and surface water is drained in an unimpeded and reliable way beneath the covering.
Easy and variable cutting to length on site, saving time and money.
Thanks to adjustable double sliding feet and special frame geometry, time-consuming and expensive customised designs are no longer required; the feet also serve to connect the grids with one another.
Complete system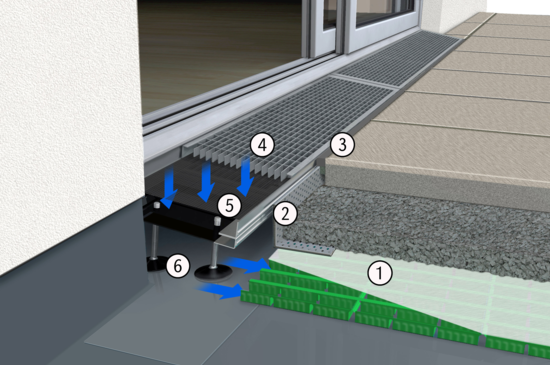 Brief technical information
Usage area:
Easy-access door thresholds on balconies and terraces, suitable for wheelchairs
Frame material:
Hot-dipped galvanised steel or stainless steel 1.4301
Covers:
Grids – hot-dipped galvanised or stainless steel 1.4301
Shadowline – stainless steel
Dirt trap:
Integral
Can be cut to length:
Can be cut to required length up to 400 mm (standard unit)
or 280 mm (extension unit)
Height adjustment:
GV: from 74–110 mm (94 mm before foot thread is cut off on site)
with XL feet: from 74–175 mm (159 mm before foot thread is cut off on site) – at an extra charge

GE: from 71–107 mm (91 mm before foot thread is cut off on site)
with XL feet: from 71–172 mm (156 mm before foot thread is cut off on site) – at an extra charge

SL: from 71–107 mm (91 mm before foot thread is cut off on site)
with XL feet: from 71–172 mm (156 mm before foot thread is cut off on site) – at an extra charge
Components & accessories
Drain grates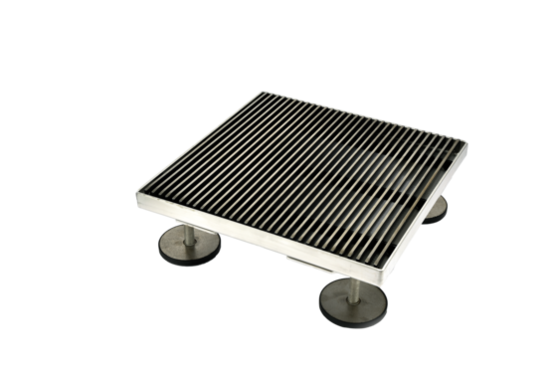 Products

from GUTJAHR

Get a display of the right product
per product category:
Adhesive/mortar

Balcony gutters and downpipes

Drain grates

Drainage accessories

Drainage mats

Edge profile

Supported systems

Waterproofing

Decoupling

Interior accessories

Shower gullies

Underfloor heating
Select your trade:

Floorers

Gardening and landscaping

Roofers

Tilers
Products

from GUTJAHR

Get a display of the right product per product category and/or usage area: