Information
On (roof) terraces, you are often confronted with the situation that there is little or no fall on the waterproofing. The water collects over a large area on the waterproofing and drainage is very slow. AquaDrain® T25 has a thickness of 25 mm. This prevents hydrostatic pressure and therefore damage to the waterproofing. The laminated special fleece raises the entire area of the covering and prevents trapped moisture from getting back into the structure.
Advantages
Especially developed for use on (roof) terraces without a fall.
25 mm thick – prevents large puddles forming on the waterproofing.
Prevents hydrostatic pressure from standing water on the waterproofing.
No fouling on the waterproofing thanks to the special filter fleece.
Footfall noise improvement of up to + 33 dB.
(Research by Construction Acoustics Laboratory, University of Rhine-Main).
Complete system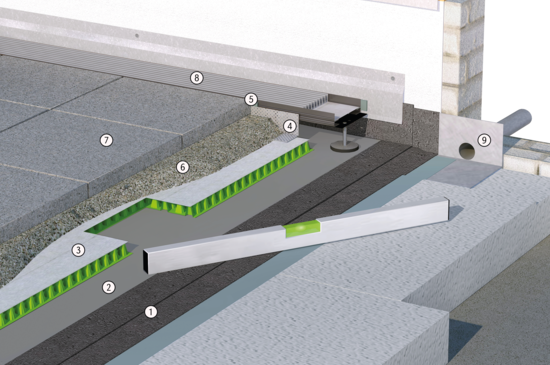 Brief technical information
Area of application
Walk-on external surfaces in private and public areas, such as (roof) terraces and balconies.
Types of covering
Coverings such as those recommended by the covering manufacturer for the respective usage area and the respective type of covering laying.
Substrates
• Bonded substrates, no direct laying onto rubble substrates, concrete surfaces with or without waterproofing, floor screed
• Old tiles, old coatings
Load-bearing capacity
Surface load capacity up to 2,000 kg/m²; not to be driven over
Drainage performance
100 % Fall= 10 l/(m*s)
10 % Fall= 4.14 l/(m*s)
1.5 % Fall= 1.57 l/(m*s)
Insulation
Compressive strength ≥ 120 kPa
Substrate gradients
≥ 0.0 % to 2.5 %
Footfall noise improvement
Up to +33dB
Components & accessories
Products

from GUTJAHR

Get a display of the right product
per product category:
Adhesive/mortar

Balcony gutters and downpipes

Drain grates

Drainage accessories

Drainage mats

Edge profile

Supported systems

Waterproofing

Decoupling

Interior accessories

Shower gullies

Underfloor heating
Select your trade:

Floorers

Gardening and landscaping

Roofers

Tilers
Products

from GUTJAHR

Get a display of the right product per product category and/or usage area: