Information
MorTec® DRAIN-EP is a thin-layer epoxy resin drainage mortar system for use in combination with AquaDrain® EK and AquaDrain® HU-EK surface drainage mat as well as AquaDrain® SD step drainage mat for solid laid natural stone and ceramic coverings on balconies and (roof) terraces.
Advantages
Thin-layer:
reduces the required construction height by at least 25 mm compared to mineral drainage mortar systems (approx. 50-70 mm construction height). This makes it ideal for renovation work or if there is a lack of construction height.
Reliable:
In combination with the drainage systems, MorTec® DRAIN supports rapid drainage and speeds up the drying of natural stone coverings. The complete system including AquaDrain® drain grates also guarantees optimum drainage of the threshold area.
Complete system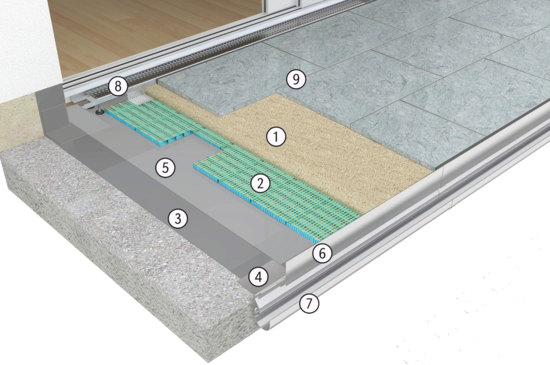 Brief technical information
Usage area:
For solid laid natural stone and ceramic coverings on AquaDrain® surface drainage systems and step drainage systems.
Substrate requirement:
Pressure resistant; for thermal insulation: EPS 035 DAA dh
Suitable substrates:
- Ground-contact terraces, roof terraces, loggias, unsupported cantilevered balconies, outdoor steps
- Old tile coverings/old coatings
Substrate gradients:
at least 1 % when laid on AquaDrain® EK
Waterproofing:
Any type of waterproofing possible except welded bitumen sheets
Material:
- Epoxy resin-based binder consisting of component A (resin, 0.7 kg) and component B (hardener, 0.3 kg)
- Special filter quartz according to EN 12904; kiln-dried and pre-mixed, grain 2 - 3.2 mm
Components & accessories
Products

from GUTJAHR

Get a display of the right product
per product category:
Adhesive/mortar

Balcony gutters and downpipes

Drain grates

Drainage accessories

Drainage mats

Edge profile

Supported systems

Waterproofing

Decoupling

Interior accessories

Shower gullies

Underfloor heating
Select your trade:

Floorers

Gardening and landscaping

Roofers

Tilers
Products

from GUTJAHR

Get a display of the right product per product category and/or usage area: