Information
AquaDrain® DR gully grates are used for drainage above floor gullies, meaning that the gullies can be inspected at any time.
Advantages
Integral dirt trap protects against fouling.
Prevents dirt from blocking the floor gully, therefore guaranteeing the permanent drainage performance.
Simple, precise alignment at covering level using screw feet that can be continuously adjusted from above.
Maximum drainage performance thanks to drain grate which is open at the bottom.
Guarantees unimpeded drainage of surface water in floor gullies.
Easy inspection of floor gullies thanks to removable drain grid.
Complete system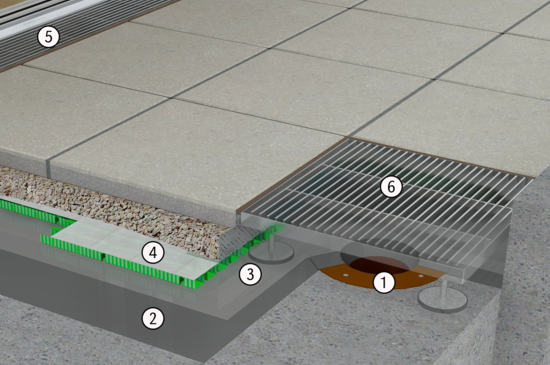 Brief technical information
Usage area:
Above floor/roof gullies and the inflow areas of waterspouts
Frame material:
Hot-dipped galvanised steel or stainless steel 1.4301
Cover:
Mesh grid – hot-dip galvanised or stainless steel 1.4301
Profile design – stainless steel
Shadowline - stainless steel
Dirt trap:
Integral
Height adjustment:
GV: 50-95 mm (or 78 mm before foot thread is cut off on site)
with XL feet: 57–170 mm (or 153 mm before foot thread is cut off on site) – at an extra charge

GE: 48-93 mm (or 76 mm before foot thread is cut off on site)
with XL feet: 55–168 mm (or 151 mm before foot thread is cut off on site) – at an extra charge

GE: 48-94 mm (or 84 mm before foot thread is cut off on site)
with XL feet: 55-169 mm (or 159 mm before foot thread is cut off on site) – at an extra charge

SL: 48-93 mm (or 76 mm before foot thread is cut off on site)
with XL feet: 55–168 mm (or 151 mm before foot thread is cut off on site) – at an extra charge
Components & accessories
Products

from GUTJAHR

Get a display of the right product
per product category:
Adhesive/mortar

Balcony gutters and downpipes

Drain grates

Drainage accessories

Drainage mats

Edge profile

Supported systems

Waterproofing

Decoupling

Interior accessories

Shower gullies

Underfloor heating
Select your trade:

Floorers

Gardening and landscaping

Roofers

Tilers
Products

from GUTJAHR

Get a display of the right product per product category and/or usage area: