Information
IndorTec® THERM-E is an extremely quick and easy to lay electric area heating system. Thanks to having an optimum flat surface, the carrier mat is laid extremely quickly. The special geometry, with 38 % less cavity than alternative systems, provides high energy efficiency. The heating cables are also covered with fillers/tile adhesives without cavities. The geometry of the mat also prevents kinks in the heating cable and makes quick grouting possible with just "one wipe" because of its open structure.
Advantages
Area heating, high-load bonded decoupling and waterproofing for wet rooms in one product.
Quick heating of the covering:
· because the heating cables are completely covered with adhesive
· because 38 % less air cavity needs to be heated up
Uniform heating cable cross-section, regardless of the length
and sleeve-less connecting technology are the guarantee of maximum ease of laying and functional reliability.
Simple processing
thanks to optimum flat position and precision engaging of the heating cables in the carrier mat.
Time is saved
since grouting takes place "with one wipe".
Available in a complete set
All complete - heating mat, cable, thermostat and empty tubes / conduits
Complete system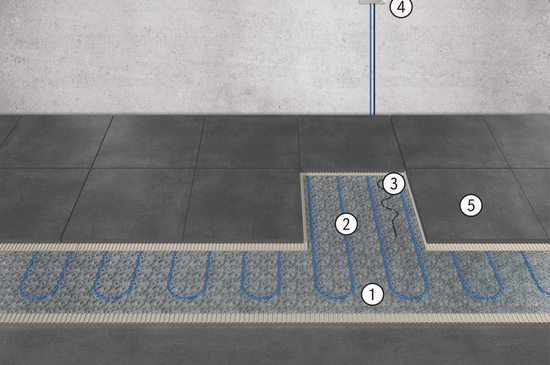 1

IndorTec THERM-E plate

2

IndorTec THERM-E cable

3

IndorTec® THERM-E BF floor sensor EU, 230 V

4

IndorTec® THERM-E TD

IndorTec® THERM-E TM

IndorTec® THERM-E TW

5

Tile/natural stone/wood/laminate and textile and elastic coverings
Brief technical information
Usage area:
• Interiors
• For heating/temperature control of floor coverings on unheated and heated surfaces
Suitable substrates:
• on cracked screed
• on wood substrates and dry screed
• on hollow floors
• on mixed substrates
• on cast asphalt screed
• on fresh cement screed which is still too damp
• on fresh calcium sulphate screed which is still too damp
Substrate requirement:
Substrates must be even, pressure resistant, load bearing and non-flexing. For waterproofing damp and wet rooms, the joints/connections must be covered with sealing adhesive and sealing tapes
Coverings:
• Ideal for large format coverings made from ceramic/natural stone
• In combination with fillers, can also be used with multi-layer parquet, and with textile and elastic coverings
• Coverings such as the ones provided by the covering manufacturer for the respective application area are suitable. The ZDB bulletin that applies to Germany provides orientation
• Covering materials that tend to dish or bulge in the event of one-sided contact with water are unsuitable
Material:
Carrier mat: Specially formed, non-rotting plastic film (PP). With fleece laminated onto the underside in the factory.
Components & accessories
Interior accessories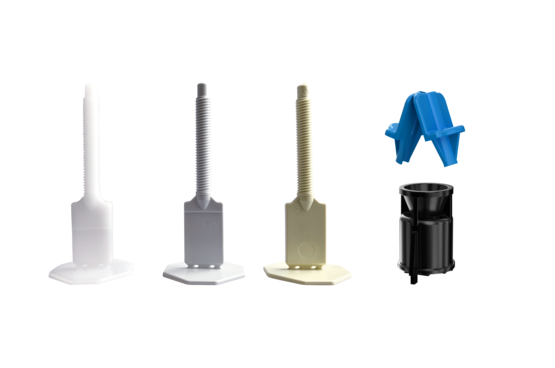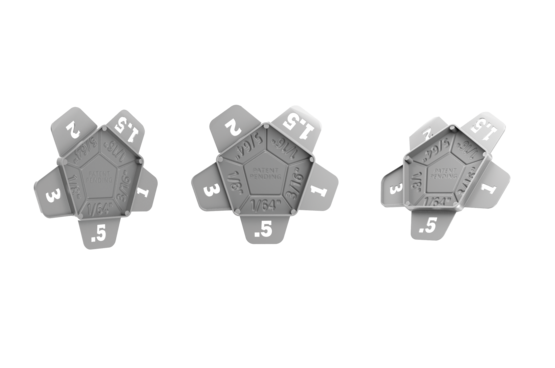 Downloads
Instruction manual
Tender texts
Products

from GUTJAHR

Get a display of the right product
per product category:
Adhesive/mortar

Balcony gutters and downpipes

Drain grates

Drainage accessories

Drainage mats

Edge profile

Supported systems

Waterproofing

Decoupling

Interior accessories

Shower gullies

Underfloor heating
Select your trade:

Floorers

Gardening and landscaping

Roofers

Tilers
Products

from GUTJAHR

Get a display of the right product per product category and/or usage area: