Information
IndorTec® FLEXDRAIN is an innovative, flat shower gully system with a unique second drainage level. This reliably drains seepage water that has penetrated the structure through the joints into the shower gully and prevents damage caused by seepage water.
Advantages
Maximum reliability due to second level of drainage.
Also reliably drains off seepage water within the structure.
Maximum flexibility reduces the need for different versions.
· due to the seal collar, attached by the manufacturer, with its narrow adhesive flange – it enables universal use even in corner and wall areas.
· due to the reversible top, which can be used both as a tileable recess and a stainless steel cover.
· due to the integrated fixed installation adapter.
Construction height
62 mm, drainage performance 0.5 l x s for renovation
Available in three lengths:
750 mm / 950 mm / 1150 mm and frame height of 11 mm for tiles and mosaic.
Individual special lengths from 250 to 1500 mm.
Hygienic stainless steel construction,
integrated gulley fall to the outflow, and odour trap with easy-clean design.
Complete system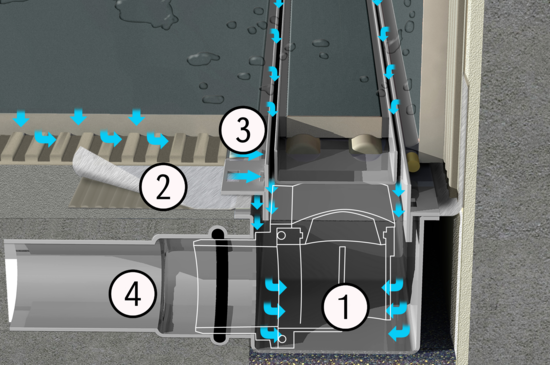 | | |
| --- | --- |
| 1 | Removable, high-quality plastic odour trap – easy to clean |
| 2 | Attached seal collar |
| 3 | Flexibility of drain frame provides appropriate adaptation to tile grid dimensions |
| 4 | Drain |
Brief technical information
Usage area:
Interiors
Material:
· gully body: stainless steel,
· frame/reversible cover: brushed stainless steel
Construction height:
62 mm = 0.5 l/s; water trap height 30 mm
Lengths:
· 750 mm
· 950 mm
· 1150 mm